Sports & Music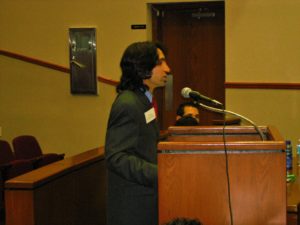 Arya Laghaie was born on 10 March 1982, in Muncie Indiana, to Roya Farzaneh-Laghaie and Robert Laghaie.
In 1985, Arya and his family moved from Muncie to Carmel Indiana, where Arya started his elementary education. Arya loved sports and music. He was involved with the Carmel Dad's Club's basketball team, the YMCA soccer team and played piano from a young age.
>> Music Recital Video Download
In 1989, Arya and his family moved to Indianapolis Indiana. Arya started 11th grade at North Central High School, where he met his future wife Elizabeth Custer. While in high school Arya volunteered at the Roudebush Veteran Affair Hospital in Indianapolis, during his Summer recess.
Volunteerism & Human Rights
Arya graduated from North Central High School in May of 2000. Arya obtained his undergraduate degree from Indiana University School of Liberal Arts, majoring in Communication and Legal Studies. It was during this time that he developed a keen interest in the field of Law and Human Rights. Arya volunteered with Honorable Judge Goodman in Marian County Superior Courts in Indianapolis, Indiana prior to initiating his graduate studies.
On 15 October 2005, Arya married Elizabeth Custer. Shortly after their wedding, Arya devoted six months of his life serving at the Native American Baha'i Institute (NABI) in Arizona. His service in the Native American Baha'i Institute included preparing and serving dinner for the Native Americans, opening the gate of the School early in the morning for the Natives to get water from the well, chopping wood for families to heat their homes, tutoring children and youth with their school work, playing basketball and recreational activities with the youth, assisting with the office work, editing the newsletter for the School and many other activities. More importantly Arya brought joy and hope with him to the Native Americans hearts, as one of the Native youth said "Arya was the best thing that ever happened to us." He promised them he would return.
A Promise Remembered
In May of 2007, Arya completed his graduate studies at the St. Thomas University, School of Law in Miami Florida, majoring in Intercultural Human Rights. While a student at St. Thomas University Arya was a member of the Intercultural Human Right Law Review and a participant in the Susan J. Ferrel Moot Cout Competition. Arya truly enjoyed his involvement with the St. Thomas University and the Intercultural Human Rights program which was preparing him for his future career.
On 19 December 2007, Arya kept his promise and returned to NABI to serve at the Winter Youth Academy. On on 3 January 2008, his life was tragically shortened in a hit and run accident in Gallup, New Mexico while returning home. He departed from this world at the young age of 25 years and 9 months.
He was interred in the Baha'i Cemetery in the Navajo-Hopi Land, amongst the people whom he loved to serve. Arya's love for his faith was shown by the dedicated service he gave to it. He loved his family, his friends and the world. He relished his life and lived it fully. He leaves to hold him in loving memory his wife, parents, grandparents, his sisters Mahta Reid and Mona Free, his brother in-laws Vytas Reid and Nathan Free, his nephew Shaheen Reid and his niece Anisa Reid and a host of aunts, uncles and cousins. He will be missed and loved forever.
"That's not the beginning of the end, That's the return to yourself, The return to innocence." – Enigma, Return to Innocence
>> Universal House of Justice on Passing of Arya Laghaie